Bio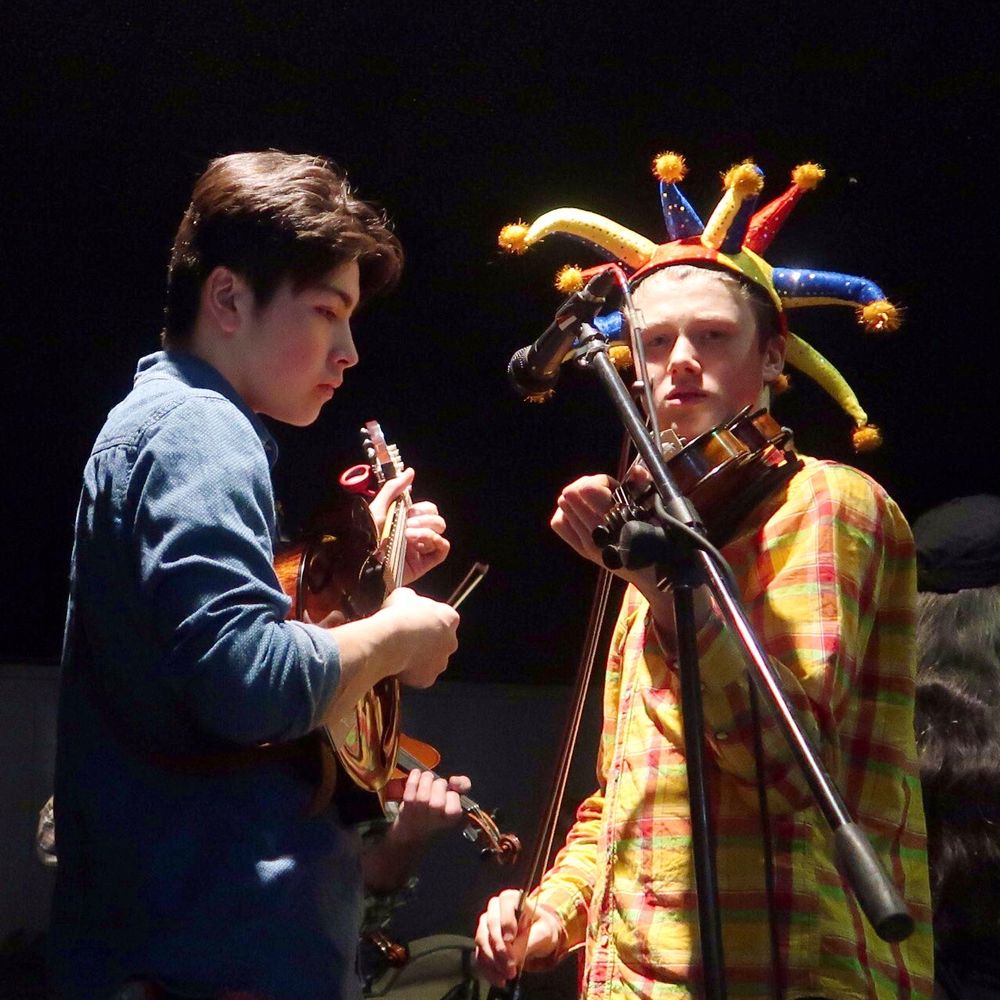 Tai McGillivray
Mandolin
Denman Island's Tai McGillivray is 16 years old and has been playing music and performing seriously since he was 7. Although mandolin is his main instrument, he also plays guitar, fiddle and bass. He has grown up playing at open mics, jams & bluegrass festivals, and has had the chance to play and learn from some great musicians over the years. His main teachers and influences have been Kevin Mitchell, Marc Atkinson, John Reischman, Mike Marshall, Jacob Jolliff, and more recently Jenny Lester to name a few.  Tai also plays bass in his school's R&B and Jazz bands as well as the senior concert band. In grade 9 he was awarded Music Student of the Year.  At the young age of 12, Tai released his first CD entitled "Wood Strings and a Pluck" and is looking forward to getting back in the studio to record a CD of original material in the future.  
2018 was a busy year for Tai.  His band, "Queue The Music", played numerous festivals and shows on Vancouver Island including Island Folk Fest in Duncan, and The Woodstove Festival in Cumberland.  In August Tai was fortunate enough to attend NimbleFingers Music Festival in Sorrento, BC and study with John Reischman for a week.  Every second Tuesday you can usually find Tai playing in Courtenay with "Fiddlejam", who also hold a Contra Dance in Merville once a month. Another highlight of 2018 was having John Reischman & the Jaybirds come to Denman Island.  It was Tai's first show as a "Promoter".
2019 also looks like an exciting year for Tai. It will be his 5th year at 
Wintergrass Music Festival
 and his 3rd year as a 
YATT
 (Youth Academy Teacher Training Program).  In 2016, Wintergrass awarded Tai with an online scholarship to study with Mike Marshall at Artistworks.com.  In 2017 Tai was fortunate enough to play with him at Wintergrass.  After Wintergrass Tai has his sights set on 
Berklee College of Music's 5 Week Summer Program
 in Boston, MA.  Tai will also be working with Concerts Denman this year to help ensure another year of 
quality
 music being brought to Denman Island.
Tai plays a mandolin hand crafted by Michael Heiden of Creston, BC.  He uses D'Addario EJ74 strings and a Blue Chip 50 pick.